During this 7 day dogsledding tour you will experience mushing your own team. We will  follow the Arctic Trail and will travel through an incredible boreal forest landscape, covered in a meter of snow. The tour leads us to the magical Arctic Circle, portal to the pole…
Dates: 12-18/01/2020; 19-25/01/2020; 26/01-01/02/2020; 09-15/02/2020; 16-22/02/2020; 23-29/02/2020; 01-07/03/2019; 08-14/03/2020; 15-21/03/2020. CHECK AVAILABILITY HERE!
Price: 16.995 sek (incl. all overnight stays, all meals, driving your own team of huskies, warm clothes and boots, transfer from train station)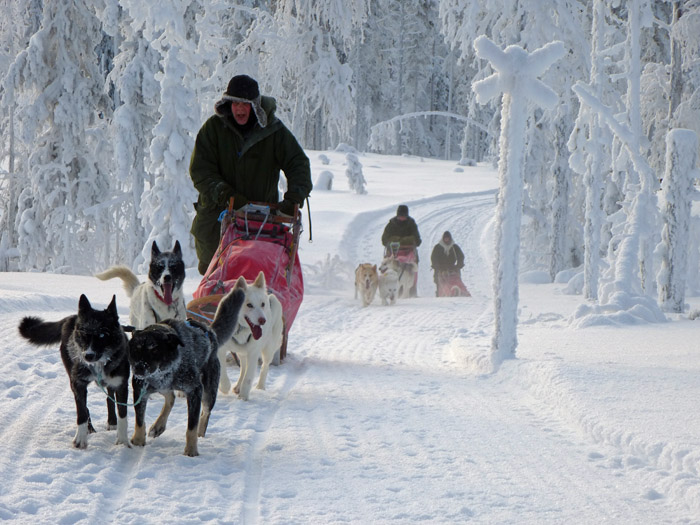 You will spend your first night of this trip in our logcabin in Kåskats on the arctic circle in Swedish Lapland. This cabin is right besides the kennel. You will meet your guide and will be introduced to the dogs and your fellow mushers. We do a kit check and talk through the tour we will make. Possibility to enjoy a relaxing sauna – and arrive in Lapland mentally!
The next day we head out for a 5 day wilderness trip with the dogsleds. You will get an instruction in how to mush a dogteam before we start. Every day we'll stop on the way for lunch and we'll make a fire.
The Arctic Trail leads us through a magical landscape of boreal forest, covered in a meter of snow. The temperature can drop as low as 40 degrees below zero. As soon as it gets dark we keep an eye out for northern lights…
During this trip we will sleep in very scenic cabins. Some of the cabins have a sauna. The cabins have a basic standard, but are very comfortable.
You will be expected to help take care of the dogs as well as help with daily chores such as fetching wood and water.
MORE INFO
Participants: Min. 2, max. 5
Level: Basic level of fitness. You need to be able to run behind the sled when necessary. No previous dogsledding experience required, we will teach you the basics. You will stay in cabins with basic facilities (Outdoor toilets, no electricity or running water).
Travel: Flight to Stockholm and then the comfortable nighttrain to Murjek, transfer to Kåskats. Alt. flight to Kallax Airport in Luleå, then connecting bus to Kåskats.