During this 7 day journey, you will mush your own team of sled dogs, travelling from cabin to cabin. You will be part of a small crew of 4 clients, guided by an experienced dog musher. Together, we will travel over the Arctic Trail, and meet some of the interesting people that live up here!
Dates: 17-23/01/2021; 24-30/01/2021; 14-20/02/2021; 21-27/02/2021; 28/02-06/03/2021; 07-13/03/2021; 14-20/03/2021.CHECK AVAILABILITY HERE!
Price: 17.950 sek (incl. all overnight stays, all meals, driving your own team of huskies, warm clothes and boots, transfer from train station, visit to Silba Siida reindeer camp)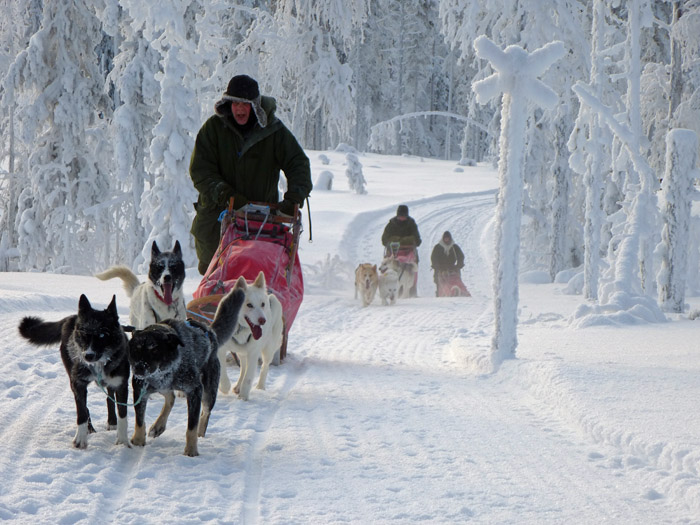 Frosty Trails is a small, family based company, located on the Arctic Circle. We emphasize on a genuine, personal experience, and prioritize good dog care.
On your day of arrival, you will spend the night in our comfortable lodge, right beside the kennel. You will meet your guide and will be introduced to the dogs and your fellow mushers. We do a kit check and talk you through the tour we will make. Possibility to enjoy a relaxing sauna – and arrive in Lapland mentally!
The next day we will teach you the basics of dog mushing and pack our sleds. We'll enjoy an early lunch around a fire in a tipi tent. After lunch we harness our dogs and head out for a 5 day tour in the wilderness!
On the first day of this trip, we will mush a good 20 km before we arrive at the old fishing cabin on the lake. Here we park the dogs for the night, lay out hay for them, and put on their dog jackets. We still have to do some small chores, like getting water for the kitchen, and feeding the dogs. Then we will enjoy a nice dinner inside the warm cabin. We have a good view on the horizon here in case there are northern lights…
The next day we continue our tour. We will cover about 30 km to Camp Suobbat, a small wilderness camp ran by Steffen and Martina. They live deep in the forest, where they grow their own vegetables and fish with nets. After we have taken care of the dogs, Steffen and Martina will meet us in a small campfire hut, where we will eat dinner around a blazing fire. Sometimes we meet other local people here as well.
The next day we will head out for a day trip with the sleds to a lake, where we will try our luck with ice fishing! We will eat lunch around a fire in the snow. If we catch some fish, we will prepare it for dinner.
That night we will sleep once more in the cosy cabin in Camp Suobbat. Before we go to bed, we will heat up the log cabin sauna. If we are lucky, we can see the northern lights right from the porch of the sauna!
On the fourth day of our trip, we will head back to the fishing cabin. Again, we will stop for lunch around a fire. Daily routines will go smoothly by now, and there might be time for a short walk near the cabin, if you feel like it.
The last day we mush another 20 km back to the kennels. Here we will eat lunch prepared over a fire in the tipi tent. After lunch we will visit the Arctic Circle, before we meet Anna and her reindeer. She will tell us about her life in a reindeer herding family, as well as Sami culture.
After this visit, it is time to heat up the sauna, before we enjoy a nice dinner in the lodge.
The next morning it is time to go home again.
MORE INFORMATION
Participants: Min. 2, max. 4
Comfort level: The lodge in our kennel is a comfortable loghouse with shared bedrooms. It does have electricity, but no running water. There is a sauna where you can have a wash. There is an outside toilet.
The cabins that we use during the trip are wilderness cabins. There is no running water, although there will be electricity in the cabin in Camp Suobbat.
Fitness level: For this trip you need to be in a good physical shape. You are expected to take care of your own team, like harnessing the dogs. You need to be able to run short stretches behind the sled in the up hills. We will cover between 20 and 30 km every day.
You will be expected to help take care of the dogs as well as help with daily chores such as fetching wood and water.
The weather, snow conditions and reindeer herds movements might cause us to change the program. However, we will do everything to make this week an unforgettable experience for you!
During the trip, we will all mush dog teams. Even the guide is mushing his own dog team, so there is no skidoo with us on the trip.
We do use a skidoo for preparing the dog trails and logistics in advance. This is a skidoo with a 4 stroke engine – the cleanest engine that is currently available.
Travel: Flight to Stockholm and then the comfortable nighttrain to Murjek, transfer to Kåskats. Alt. flight to Kallax Airport in Luleå, then connecting bus to Kåskats.