During this 10 day expedition you will mush your own team of huskies through some of the most remote mountain areas of Swedish Lapland! We will make our own tracks and follow the best route, depending on snow, weather and reindeer movement.
Date: 06-15/04/2018 CHECK AVAILABILITY HERE!
Price: 20.500 sek (incl. all overnight stays, all meals, mushing your own team of huskies, warm clothes and boots)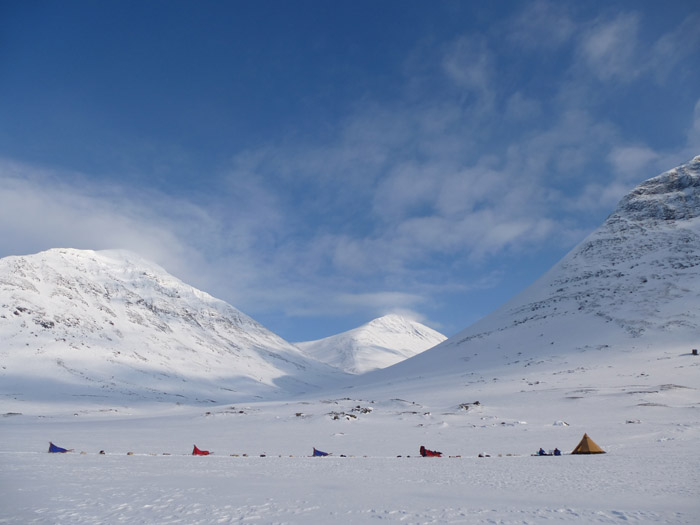 You will spend your first night of this trip in a logcabin at our kennel in Kåskats. You will meet your guide and will be introduced to the dogs and your fellow mushers. We will make our last preparations and do a kit check. The following day we will be driven by car to our starting point in the mountains. From there we will start our expedition, mushing our own teams of huskies!
The next 8 days will lead us through the mountains and a stunning wilderness! We will be driving between 20-40 km every day, depending on weather and snow conditions. The route can vary from year to year, depending on snow conditions and reindeer movement.
During the trip we will spent the nights in a traditional tipitent as well as cabins owned by the STF, so we can dry our kit. At night we keep an eye out for the northern lights.
After 8 days out in the mountains, we will come back to our starting point. From there we will drive back by car to the logcabin at our kennel, where we will enjoy a good meal and a sauna to celebrate a fantastic tour in the mountains! The next day you will leave, after an incredible adventure in the mountains!
This is a demanding tour. Participants should have previous dogsledding experience as well as a high level of fitness. All expedition members are expected to take part in taking care of the dogs as well as daily chores such as fetching water or melting snow.
MORE INFO
Participants: 2-4
Level: High level of fitness. You will need to help the dogs when we cross the mountain passes and make our own tracks. Previous dogsledding required. During the expedition you will sleep in a tent. We will dig outdoor toilets in the snow.
Travel: Flight to Stockholm, then nighttrain from Stockholm to Murjek, transfer to Kåskats. Alt. flight to Luleå and connecting bus to Kåskats.