Winter holiday at Frosty Trails
Enjoy a week of winter holiday at Frosty Trails! We have the perfect place for you to enjoy a week of winter, snow and northern lights right here on the Arctic Circle in Swedish Lapland.
In short
This winter holiday is great for couples, families or a groups of friends – you will have your own isolated winter holiday, away from the crowds!
You will stay in your own cosy log cabin with a sauna, right next to our ecotourist husky farm.
Dogsledding and ice fishing with a guide are included in this program. Other than that, you can make your own program – everything from hiking on snowshoes, to just reading a book in your warm cabin!
We will cook dinners for you on two nights; for the other meals we provide you with recipes and ingredients to prepare your own meals in the cabin.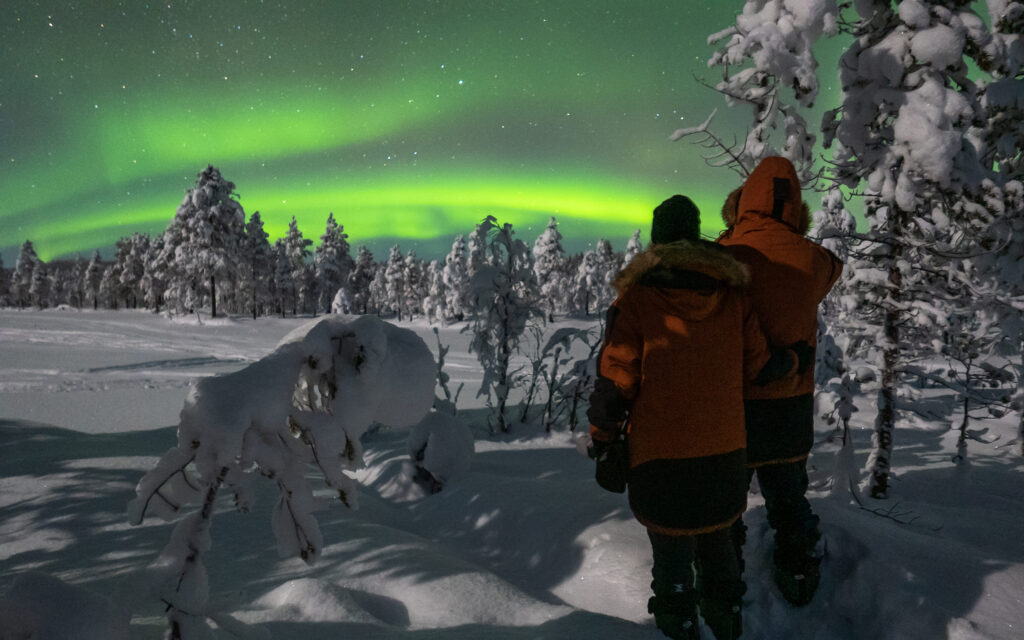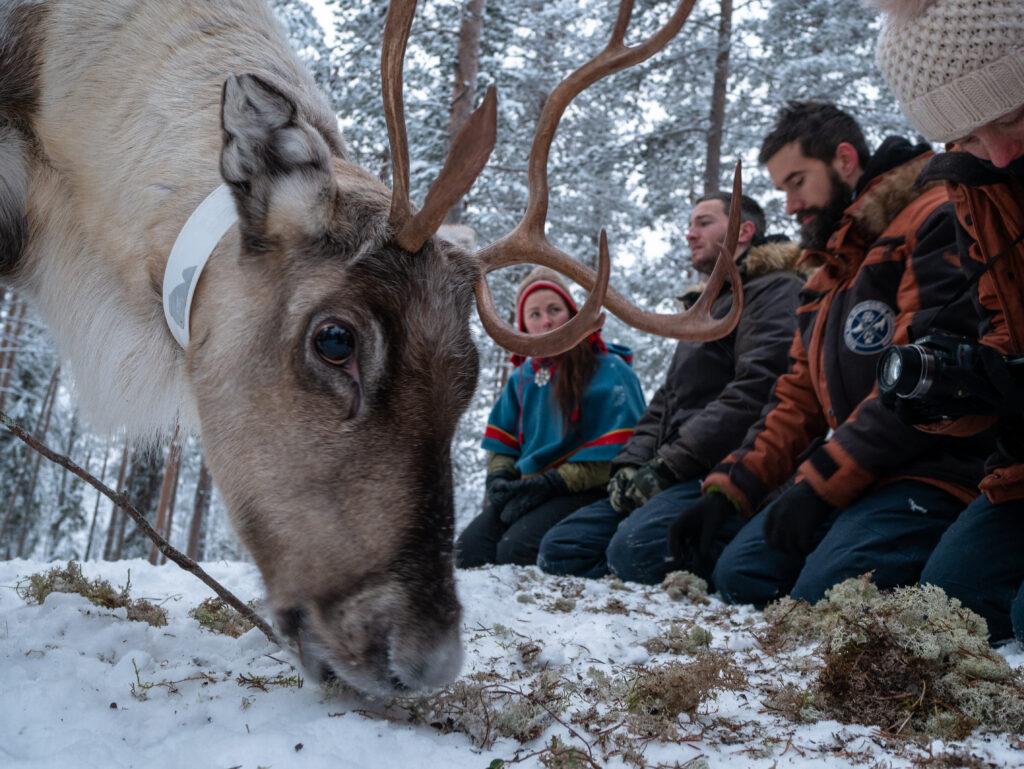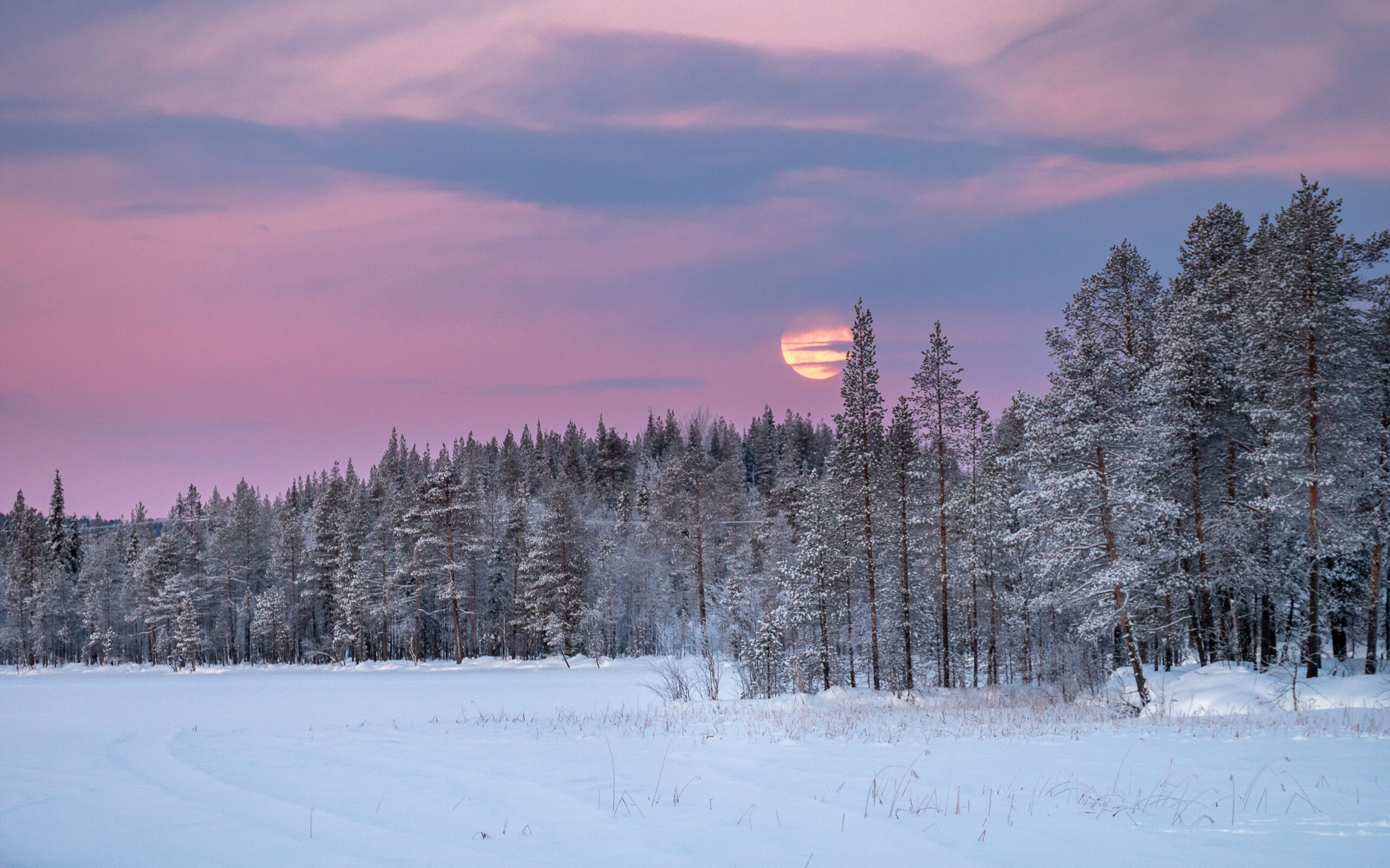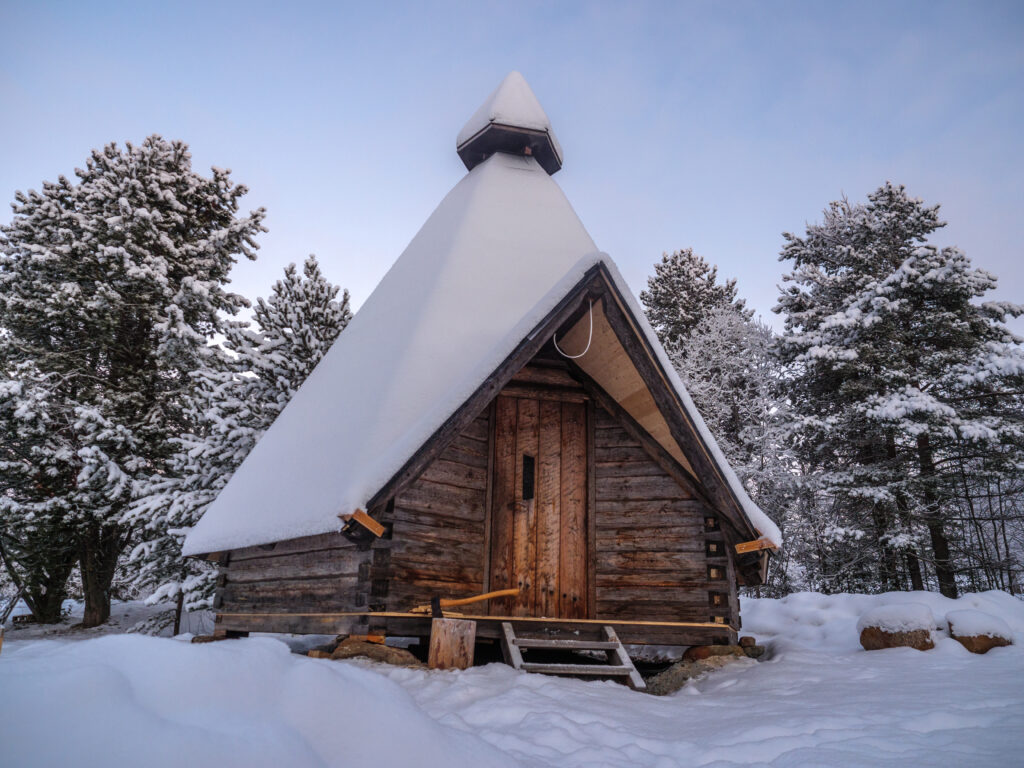 More information about this holiday
Your cabin is nicely placed on the edge of the forest, right next to our husky farm. You will be the only guests staying here.
Our company is an eco touristic husky farm, that emphasizes on good dog care. You will get to meet the huskies and their presence will really add to your winter holiday! There is just something special about the huskies howling in the winter night.
We will of course take you out on a dog sledding tour. And we will take you along on an ice fishing adventure. We have snowshoes here that you can borrow, so you can make some nice hikes through the forest over prepared trails of 5, 8 and 10 km. You can also visit a reindeer farm close to our place. Or you could go ski touring right from your doorstep, either on the trails or in the untouched snow.
The wood stove heated sauna is right next to the cabin, and you will have it all to yourself!
On arrival day and on the last night we will cook your dinner over a fire in our traditional log hut. On the other nights, we will give you the ingredients and recipe to cook your own dinner in the kitchen of your cabin. This is all local food, and the recipes are fool-proof. And we have some really tasty vegetarian options!
We will also provide you with breakfast and lunch. During the dogs sledding tour and the ice fishing adventure, we will make a simple lunch over a fire. The other lunches consist of sandwiches, that you can take along if you are out snowshoeing or skiing – or you can just eat lunch at home in the cabin 🙂
There is a bus service to Jokkmokk (30 minutes away) if you want to do some additional shopping, or if you want to visit the Sami and Mountain Museum Ajtte.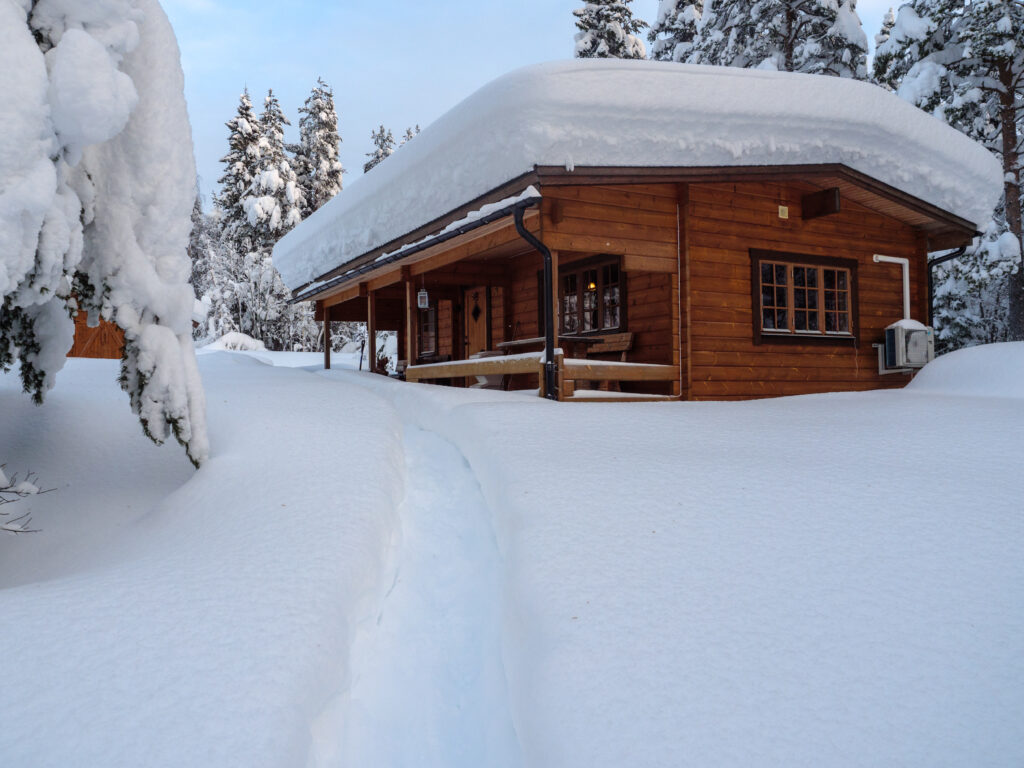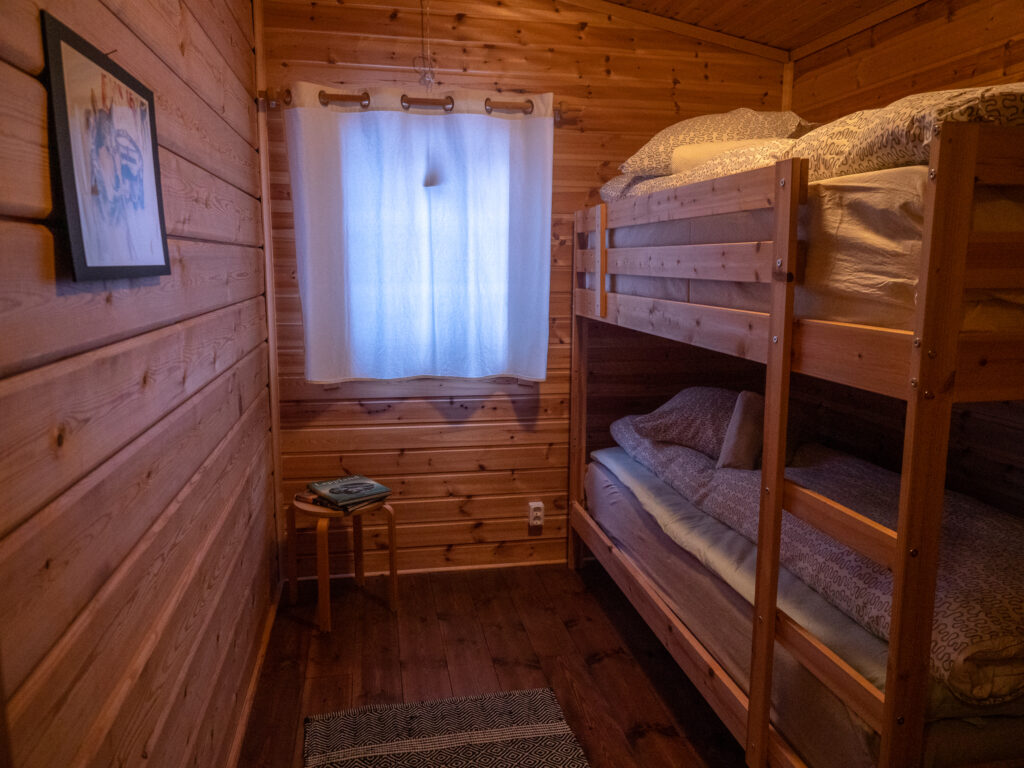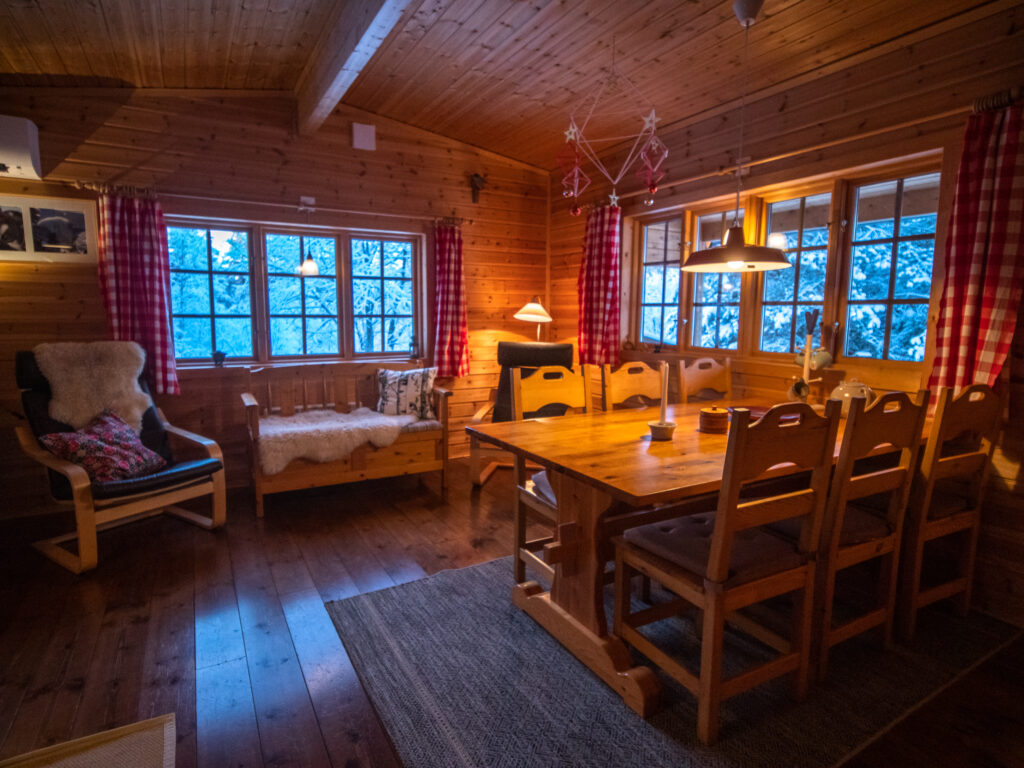 Availability and price
Available from January to March. Check availability in our calendar!
Price: 13.800 sek pp from 2 guests, 12.800 sek pp from 4 guests, 12.000 sek pp for 6 guests. Minimum 2 guests, maximum 6 guests. Children under 12 years accompanied by at least two adults, get a 50% discount.
This includes :
Stay in your own private log cabin
Your own wood stove heated sauna with plenty of snow to roll in
Two dinners and two lunches prepared over the fire in our traditional log hut
A food basket for all other meals (breakfasts, lunches and dinners) which you will prepare yourself in the cabin
Bedlinen and towels
The use of snowshoes
A day tour with dogsled; You can choose if you want to steer your own (shared) sled or if you want to sit on the guide's sled
Ice fishing from an island in a frozen lake
Good chances for northern lights!
Optional activities:
Visit a reindeer farm including lunch in a traditional tipi tent. Price 1500 sek pp
Rent touring skis and go ski touring right from your door step. The price for renting skis is 1520 sek pp per week
About the cabin: Your log cabin has a basic, but comfortable standard. It is heated by a heat pump, which keeps the cabin at a constant comfortable temperature. There is electricity and we have 4G signal for internet, but the water comes from a water canister with a tap. There is no shower, but there is a washing room inside the cabin and you can also use the sauna for washing every day. The toilet is outside, but has a nice styrofoam seat so you can sit comfortably warm even on cold days! There are two sleeping rooms, a 4 person room with bunk beds and a 2 person room with 2 single beds.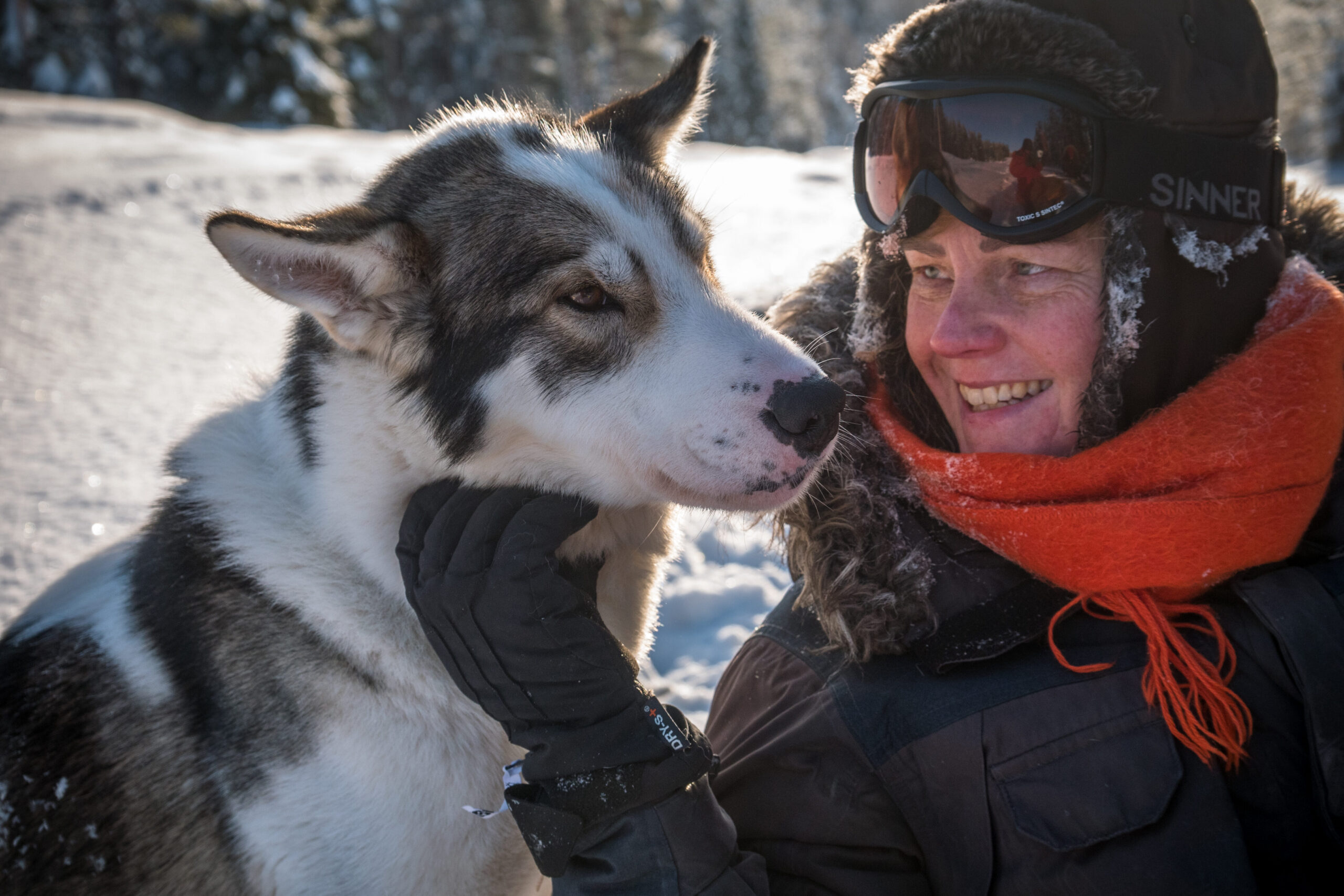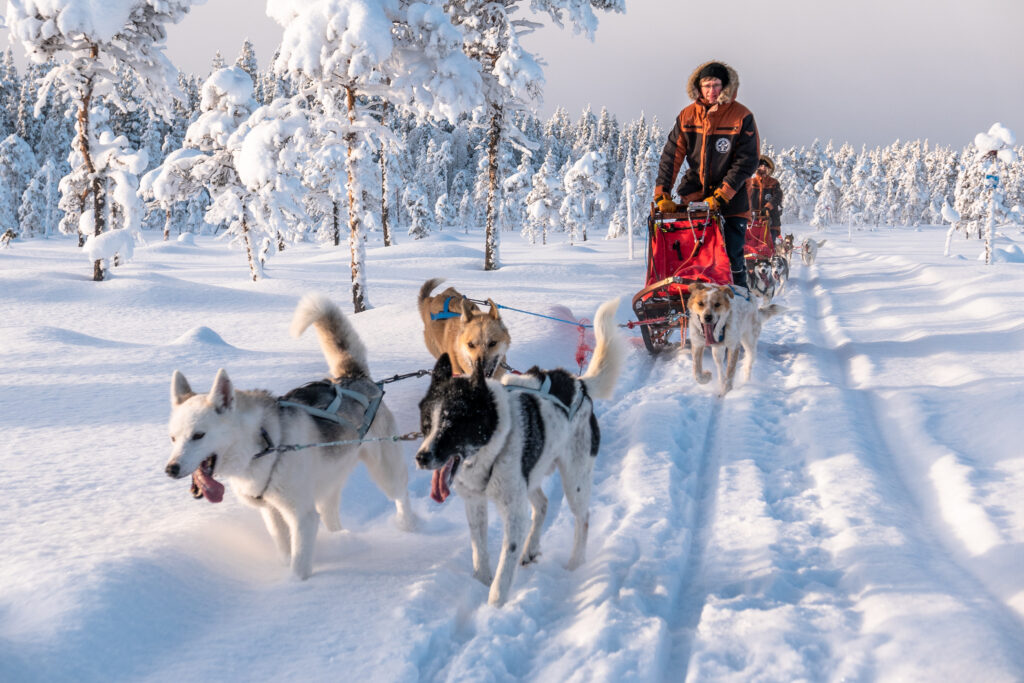 Other important information
You will find information on getting here on this page.
On arrival day, you are welcome around lunch time. We do offer transfers from the train station in Murjek for the late morning train. Mind that we do not offer any transfers for the 07:00 am train! Checking out on the last day before 11:00 am. If you are planning on taking the night train, you can spend the day in either Jokkmokk or Luleå. Please ask us about the possibilities before booking your train!
We want to create a 100% smoke free and perfume free environment, and we therefore respectfully ask smokers to book elsewhere. We also want to ask you kindly, not to use any strongly perfumed products like deodorant or perfume on this holiday.
Ready for the adventure of a lifetime in Swedish Lapland?
Drop us a message to make a booking or if you want to know more! We'll be happy to answers your questions. Welcome to Kåskats in Swedish Lapland!