Getting dressed for the cold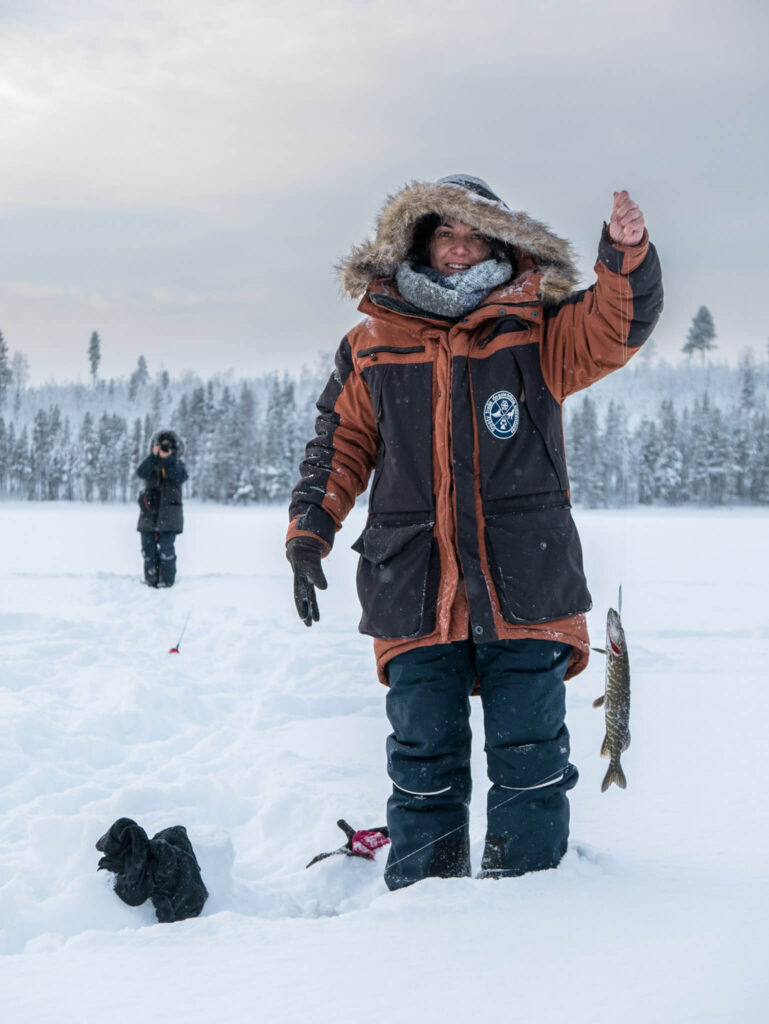 Clothes for the cold
We get a lot of questions about what clothes you should wear in the cold. We hope this article might be helpful.
First of all, it's important to recognise that clothing doesn't make you warm – at it's best it will keep you warm. Heat is generated by burning energy, and you do that by using your body for exercise and eating plenty of food.
Recognising that using your body for physical exercise will make you warm, you will also understand that you will need more clothes during a static activity (like icefishing) and less clothing during a dynamic activity (like crosscountry skiing).
That means that you will have to adapt your clothing to the level of activity during the day, or you will be either too hot or too cold. Being too hot results in sweating, and perspiration will make your clothes wet, which results in poor insulation – that way, being too hot will soon make you feel cold!
The strategy of choice is to dress in layers, which will enable you to put extra layers on when you stand still on a sled; Likewise it will enable you to loose a layer when you are busy chopping wood, getting water, or any other activity that will make you hot!
The first layer consists of your underwear and a woollen or synthetic sports shirt. Wool will keep you warm, even if it is damp of perspiration – that's why it's used on all polar expeditions.
The second layer consists of long underwear, again wool or synthetic sportswear. You also wear a double layer of socks, a thin one and a thick one. Both preferably wool (at least 60%).
Your third layer is a fleece or woollen jumper. This is "personal" matter, as people are not the same when it comes to feeling warm and comfortable. It could be just a thin fleece jumper, or it could be two thick ones, depending on the person that wears them! Some people like a thin down jacket or a "softie jacket".
Your final layer consists of an insulated jacket, insulated trousers, insulated snowboots, big mittens and a warm hat. You could "layer up" by putting on a balaclava under your warm hat; Or you could "layer down" by changing the warm hat for a thin beanie. Again, all depending on the person that is wearing the clothes!
During "warm spells" and spring conditions, it can be nice to have a thin (goretex) jacket instead of the big jackets that we provide.
You will need sunglasses and sunscreen starting from february (when the sun comes up again). Make sure the sunscreen is the kind made for wintersports. They contain more fat and less water, which might freeze.
Skiing goggles can be comfortbale when it's blowing, especially if it is snowing at the same time.
For use on the sled, we prefer mittens and not finger gloves. Mittens keep your fingers warmer, because they are together. We provide big warm military mittens. They might not look great, but they sure keep your hands warm! We do not advise you to wear fingergloves under your mittens. You will need finger gloves during chores. Thin fleece gloves are cheap and do the job. Have two sets handy, one for feeding the dogs and another for eating your lunch!
The bottom line is that we want our guests to feel warm and comfortable, even at very low temperatures. Don't hesitate to ask your guide for advice!