Private Winter Holiday With Huskies
Enjoy a week of winter holiday at Frosty Trails! We have the perfect place for you to enjoy a week of winter, snow and northern lights right here on the Arctic Circle in Swedish Lapland.
In short
This private winter holiday with huskies is great for couples, families, or a group of friends – you will have your own isolated winter holiday, away from the crowds!
Stay in your own cosy log cabin! There is only one guest house at our kennel, and it will be yours for this week!
3 days of dogsledding with a guide, including an overnight tour to a wilderness cabin.
2 days of snowshoeing on prepared and marked trails. On one of these days, you could also visit Jokkmokk and the Sami and Mountain Museum.
Good chances to see the northern lights!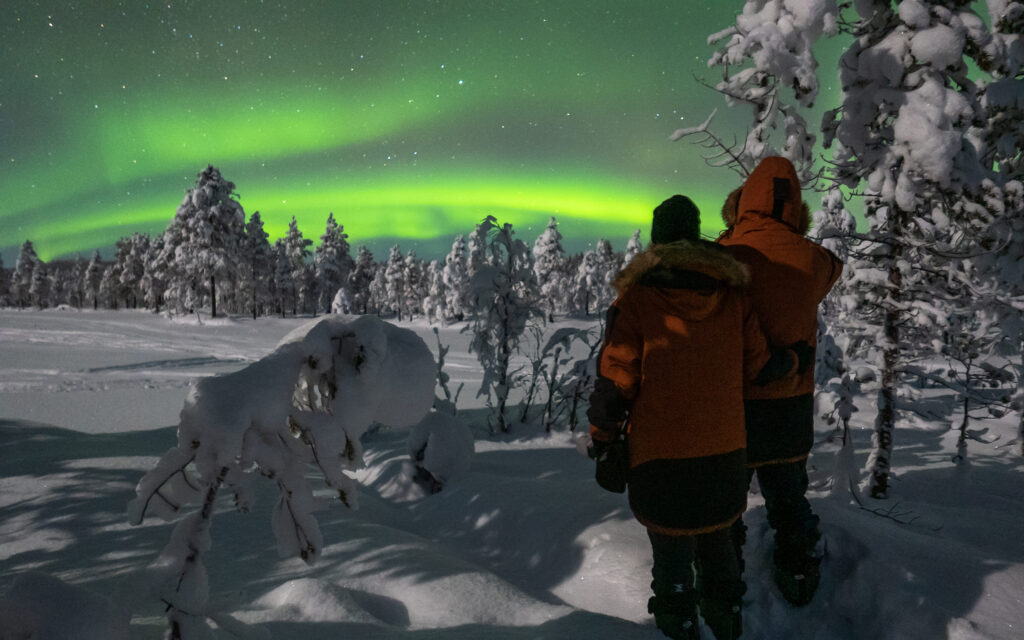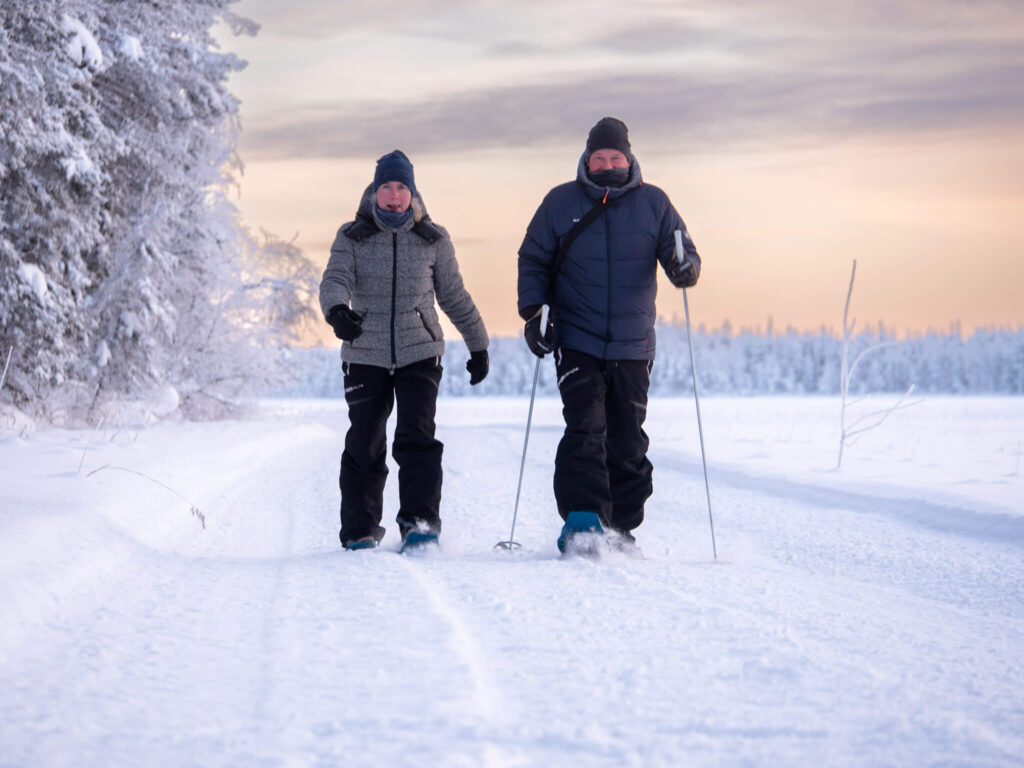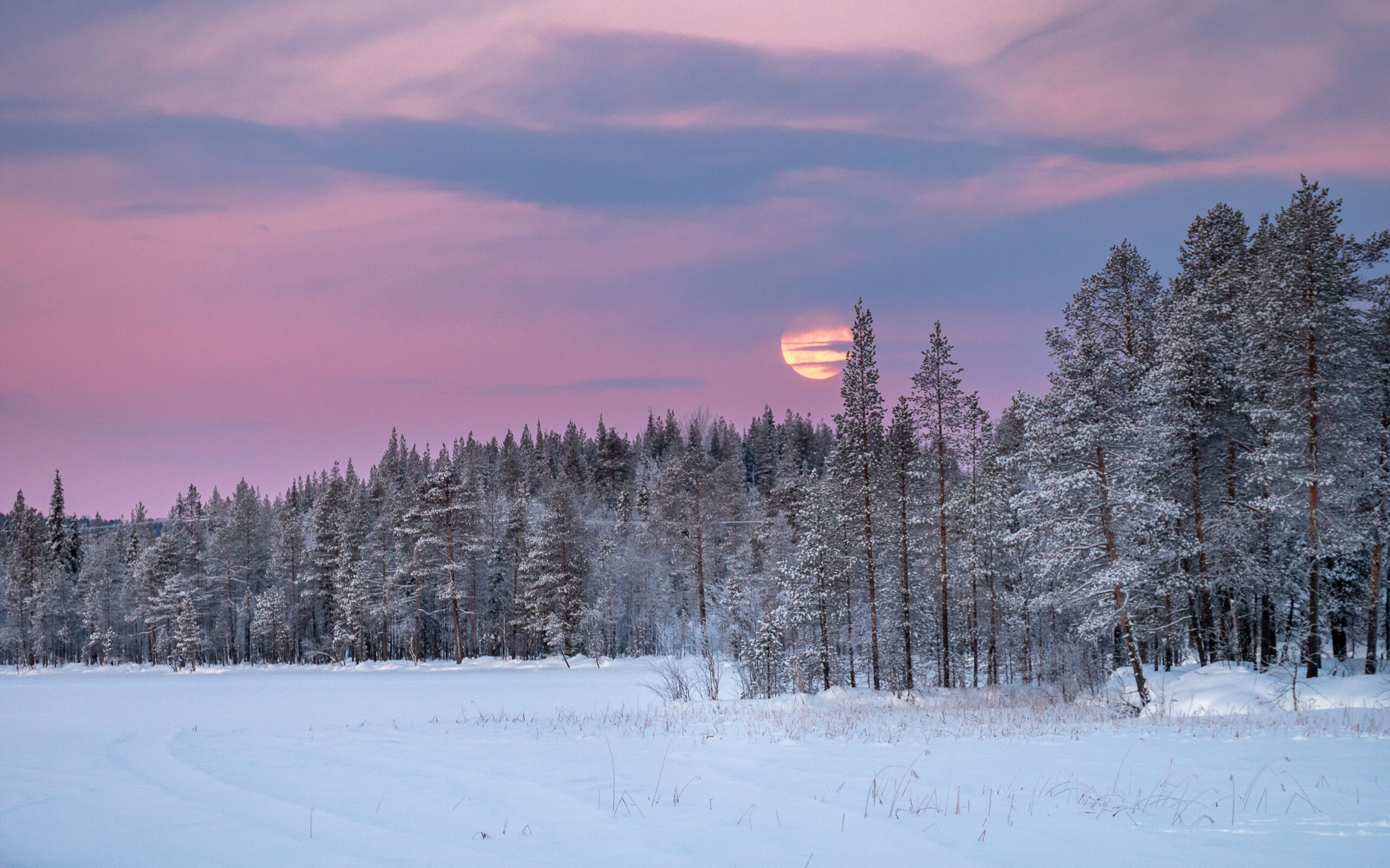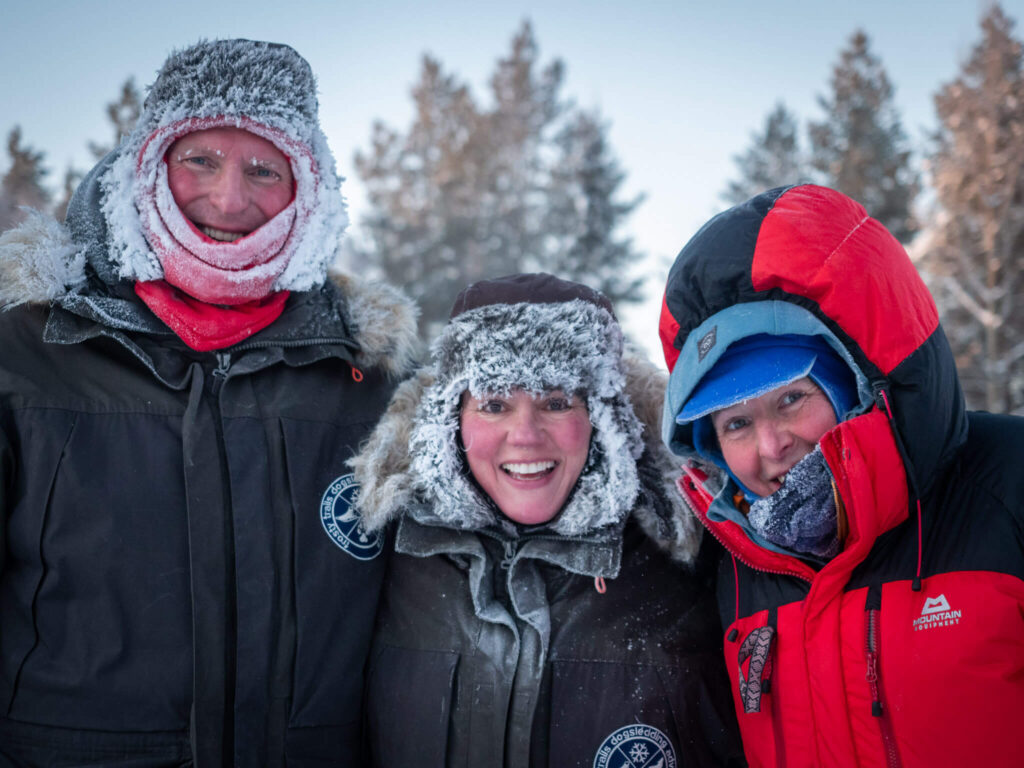 More information about this holiday
Your cabin is located on the edge of the forest, close to a frozen lake and right next to our husky farm. You will be the only guests staying here, and there are no other cabins – truly a private winter holiday!
On arrival day, as well as on the last night we will cook your dinner over a fire in our traditional "kåta" log hut. We will also cook a meal together on our overnight tour with the huskies. On 3 nights, we will give you the ingredients and recipe to cook your own dinner in the kitchen of your cabin. This is all typical local food, and the recipes are fool proof. We do have some tasty vegetarian options as well!
We will provide you with breakfast and lunch. During the dog sledding tours, we will make a simple lunch over a fire. On the other days, lunches consist of sandwiches and a thermos, that you can take along if you are out snowshoeing – or you can just eat lunch at home in the cabin.
You will drive your own (shared) sled on 3 days. During the first day tour, there might be other guests joining for that day (max 6 guests on the tour). During the two-day overnight tour, you will be on your own with the guide. You will sleep in a cosy wilderness cabin that night.
The three days of dogsledding are guided, the other two days you will go out by yourself.
You can go snowshoeing through the forest over prepared and marked trails of 5, 8 and 10 km, starting right from your doorstep. We provide you with snowshoes.
The wood stove heated sauna is right next to your cabin, and you will have it all to yourself on 3 nights! We will provide you with exclusive Care of Gerd shampoo and soap, locally made with natural ingredients and 100% plastic free.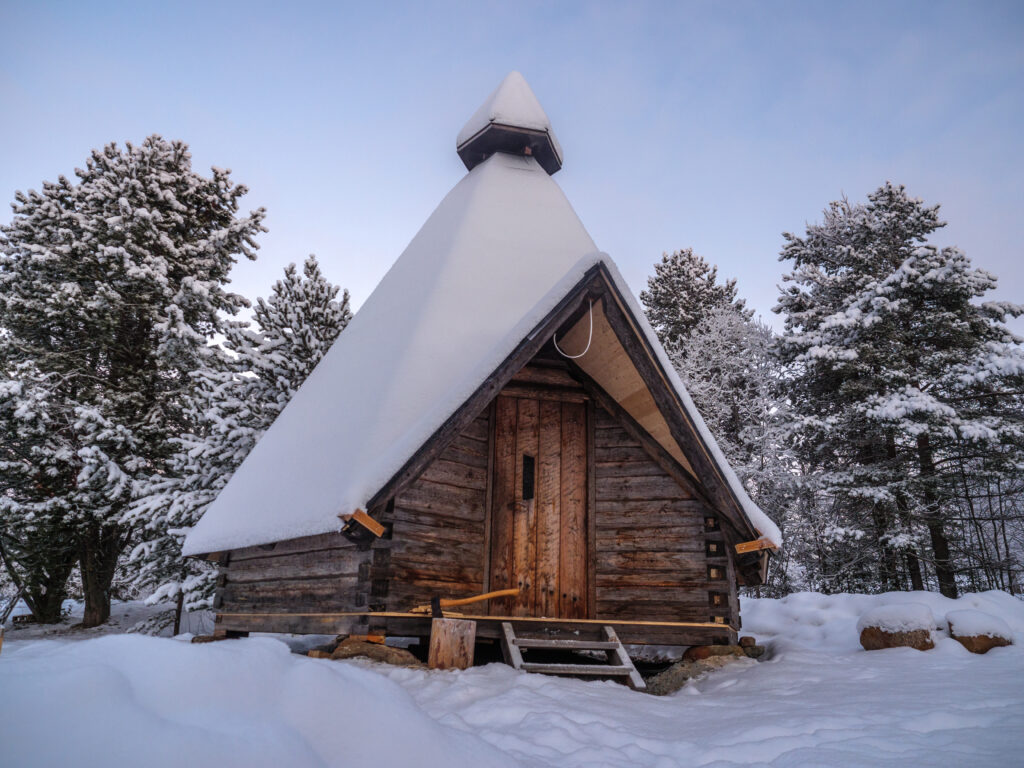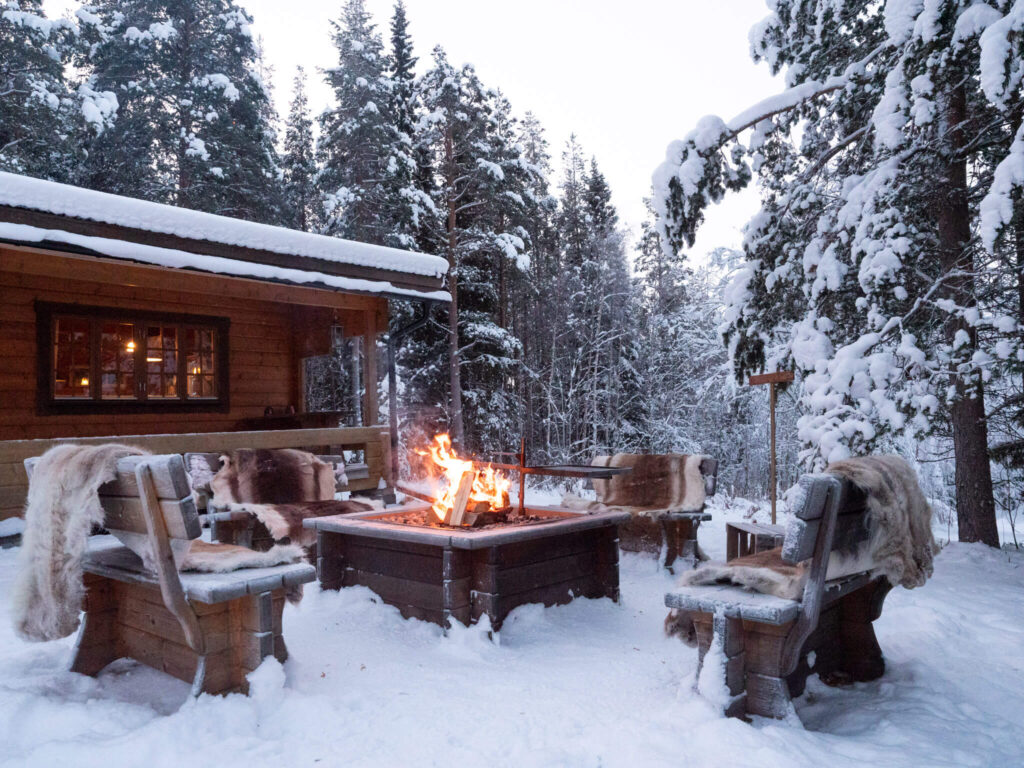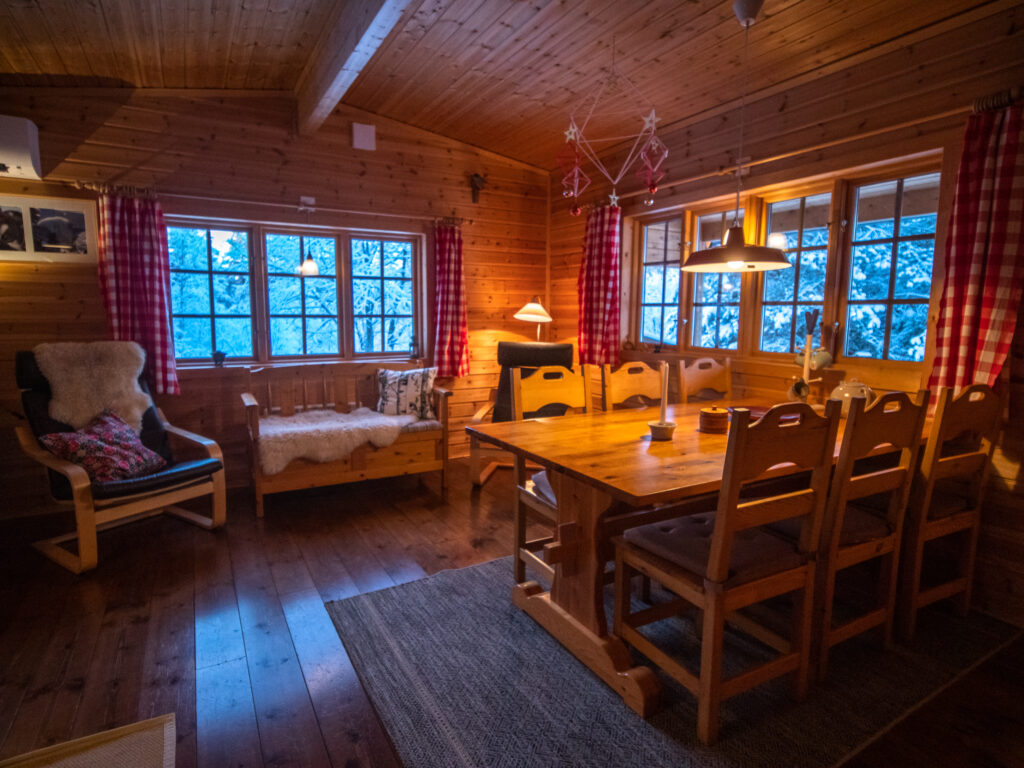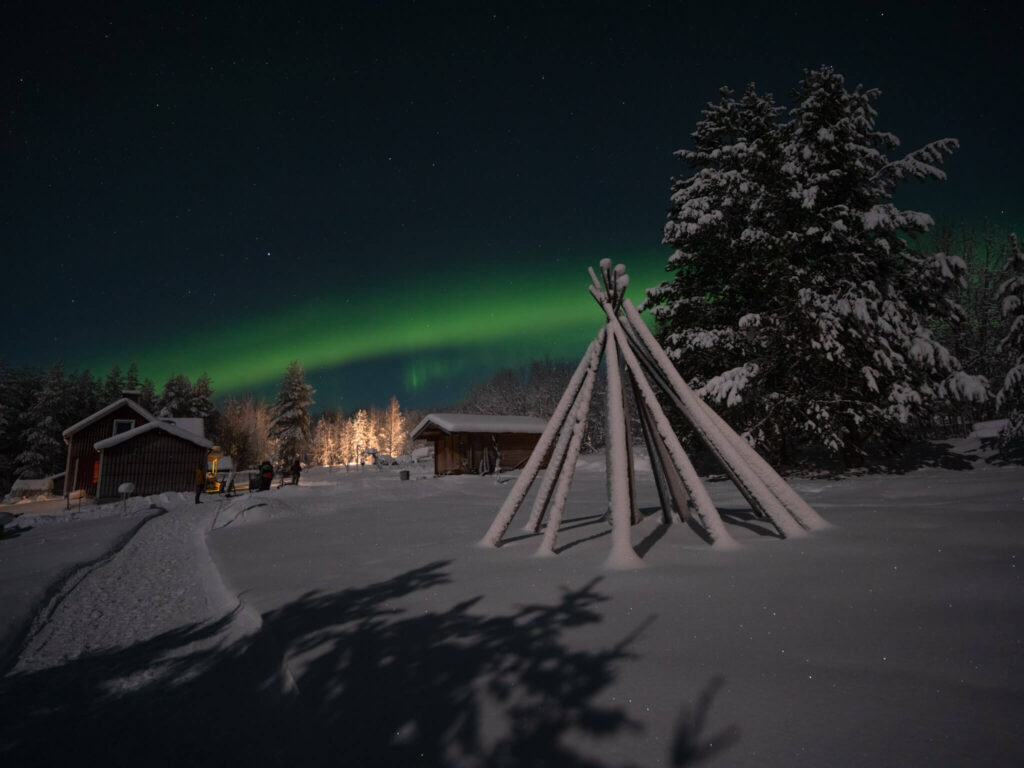 Day to day
Sunday: Arrival around lunch time; we will welcome you around the fire with a hot drink! You can use this day to acclimatize. A popular activity is to take a short hike to the lake right behind your cabin. In the evening we will eat dinner with you around the fire in our traditional "kåta" log hut.
Monday: Today you will meet our huskies! We will go out for an introduction tour with the dog sleds. In the evening you will prepare your own dinner and then enjoy a nice wood stove heated sauna!
Tuesday: Today is a good day for a snowshoe hike! Choose between different routes of 5, 8 and 10 km. Or choose to just relax in the comfortable log cabin. In the evening you will prepare your own dinner. Possibility for sauna.
Wednesday: We will head out for a two-day sled dog tour. This is a private tour with no other guests. We will eat lunch around a fire and sleep in a wilderness cabin. You will take part in taking care of the dogs. We will get our water from the frozen lake. Hopefully we will see some northern lights from this beautiful place in the forest!
Thursday: After breakfast we will continue our husky tour. We will stop for lunch on an island, where will try our luck with ice fishing! After coming back from the tour, you will cook your own dinner and then enjoy a nice sauna!
Friday: Today you can make another snowshoe hike! Or you could visit Jokkmokk, the cultural heart of Swedish Lapland. If you plan to take the night train back, you will leave in the evening, after another nice dinner around the fire in our traditional kata (log hut) ! If you leave by bus to Luelå, you will sleep one more night in your log cabin.
Saturday: The bus to Luleå departs after breakfast at 08:20 hrs. The bus tour to Luleå is in a comfortable couch with a good view on the forest around you. Good opportunities to see both moose and reindeer! You will arrive at the bus station at 10:50 hrs, from there you can take the connecting bus to the airport (10 minutes).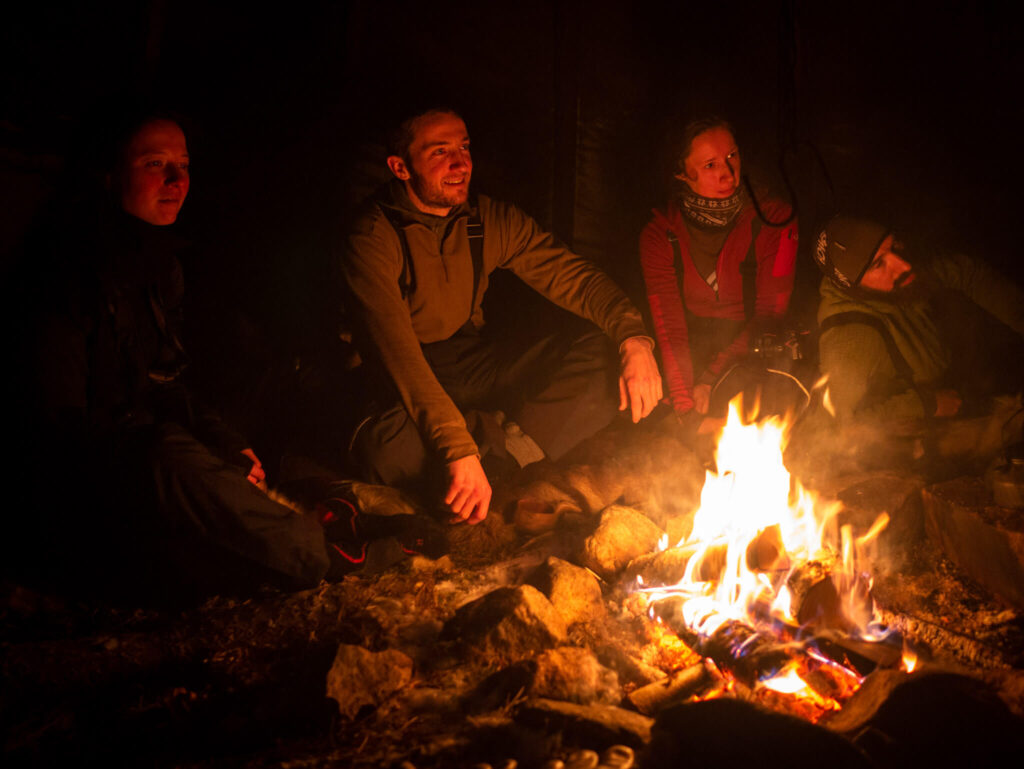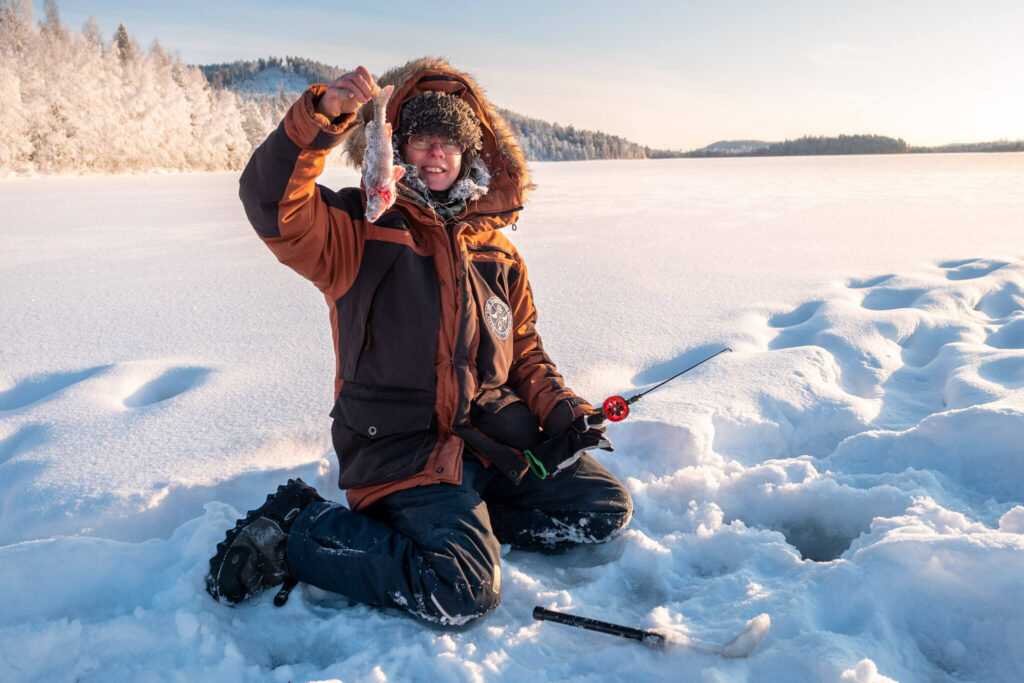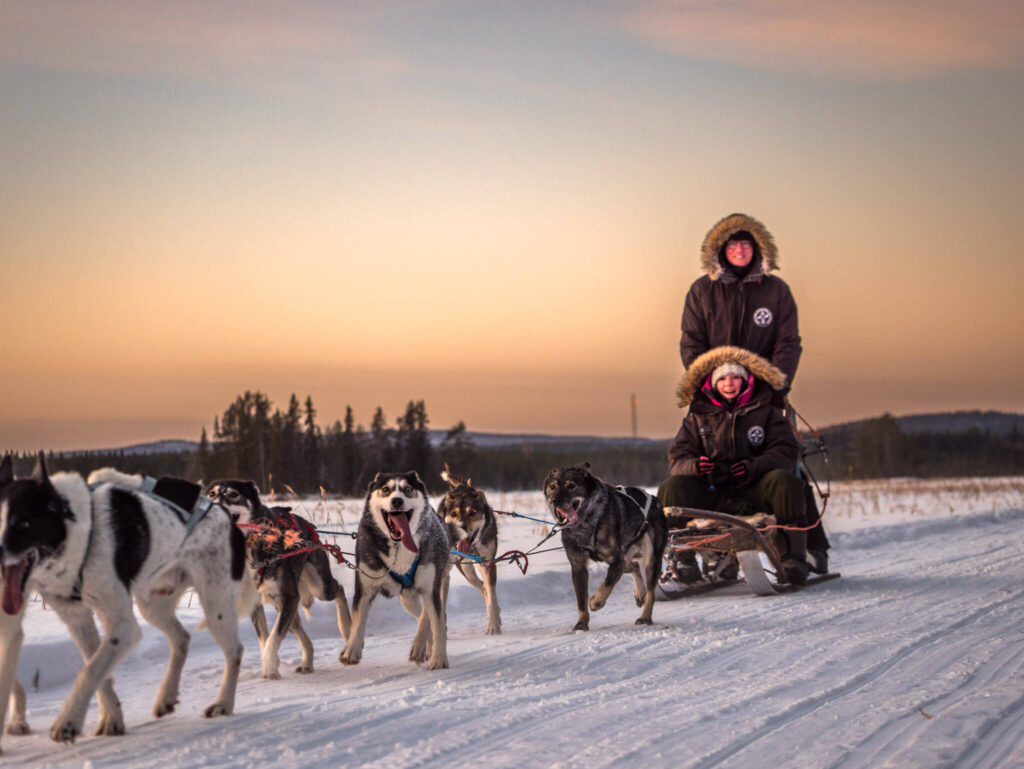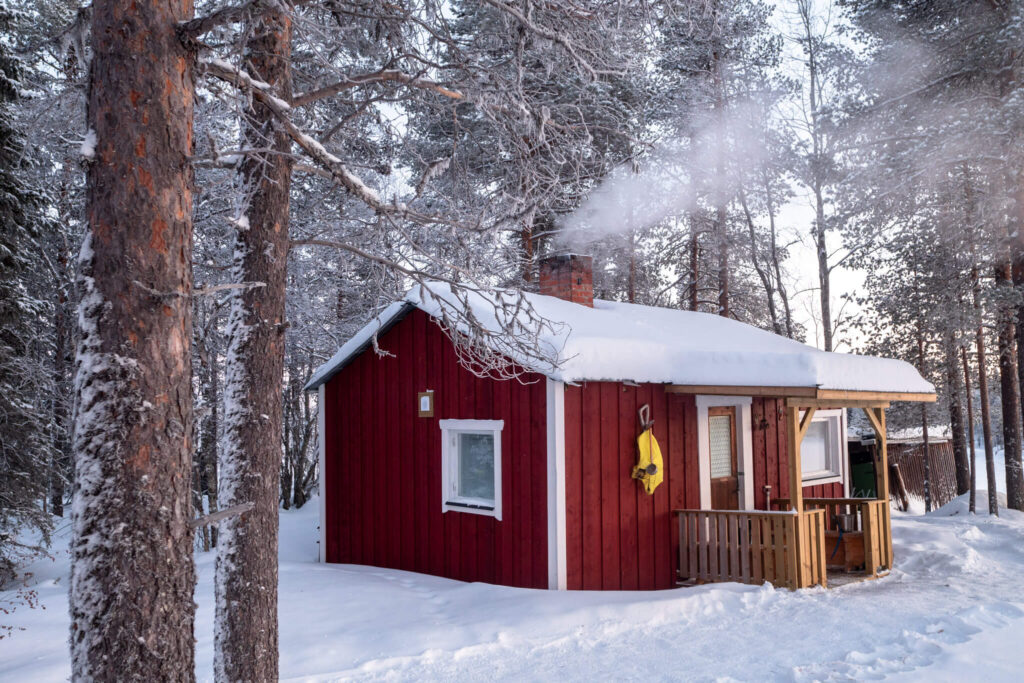 Availability and price
Available in February and March. Check availability in our calendar!
Price: 21.500 sek pp Minimum 2 guests, maximum 5 guests. Minimum age: 14 years.
This includes :
Optional activities:
About the cabin: Your log cabin has a basic, but comfortable standard. It is heated by a heat pump, which keeps the cabin at a constant comfortable temperature. There is electricity and we have 4G signal for internet, but the water comes from a water canister with a tap. There is no shower, but there is a washing room inside the cabin, and you can also use the sauna for washing on three nights. The toilet is outside but has a nice Styrofoam seat so you can sit comfortably warm even on cold days! There are two sleeping rooms, a 4-person room with 2 bunk beds and a 2- person room with 2 single beds.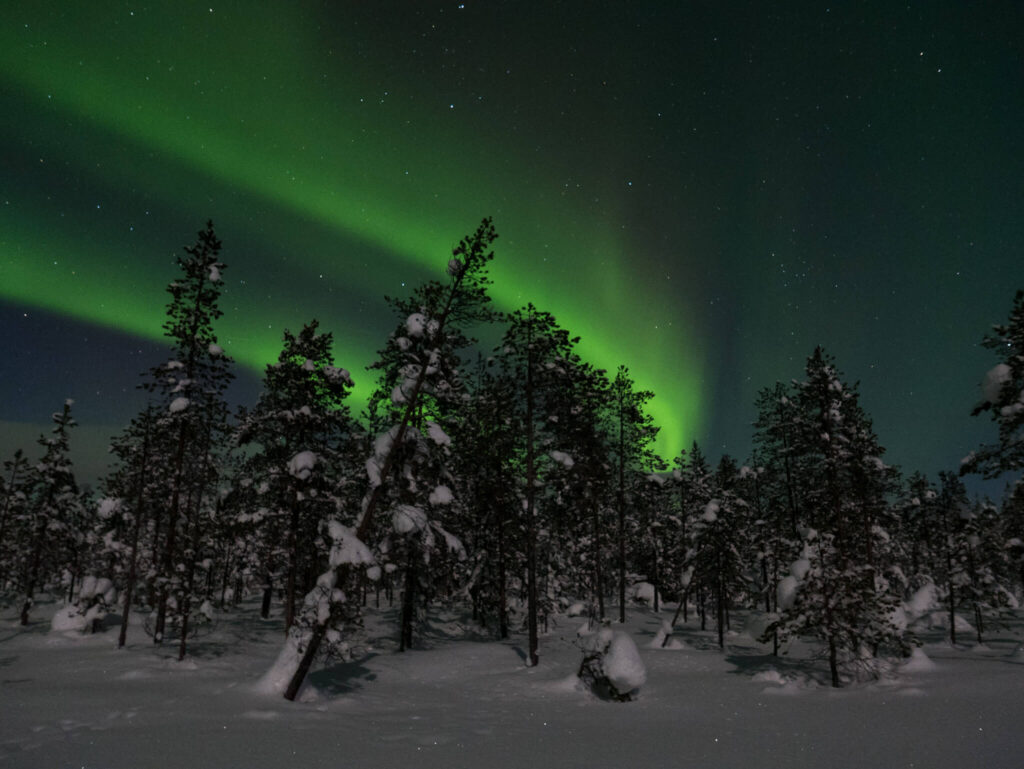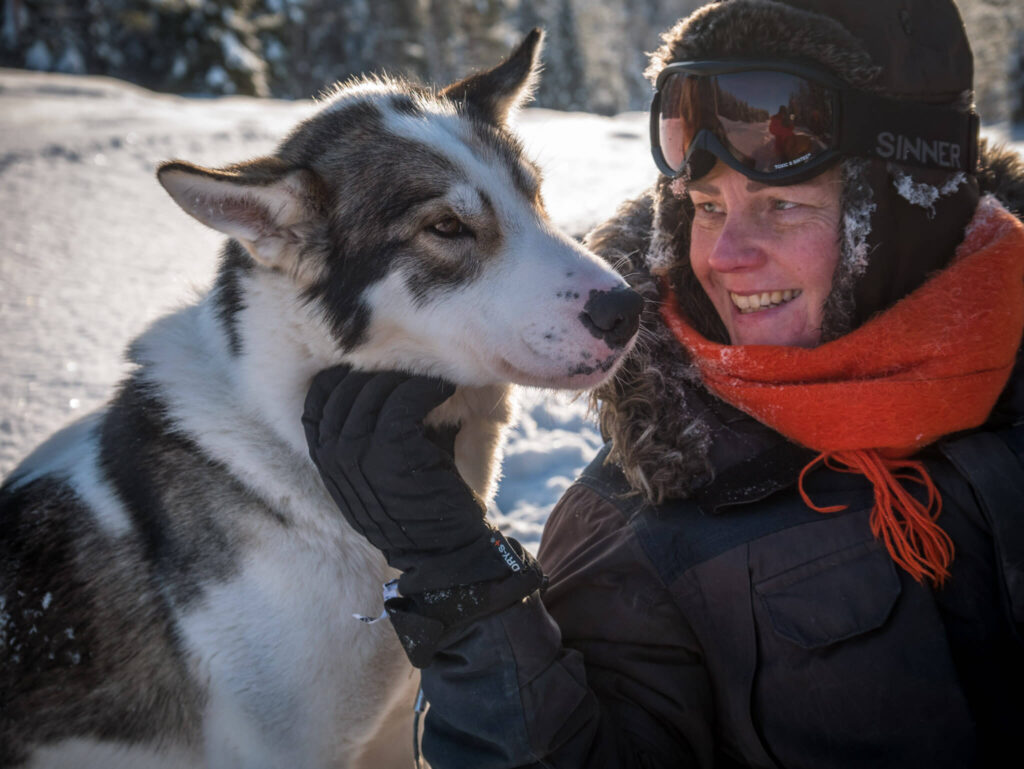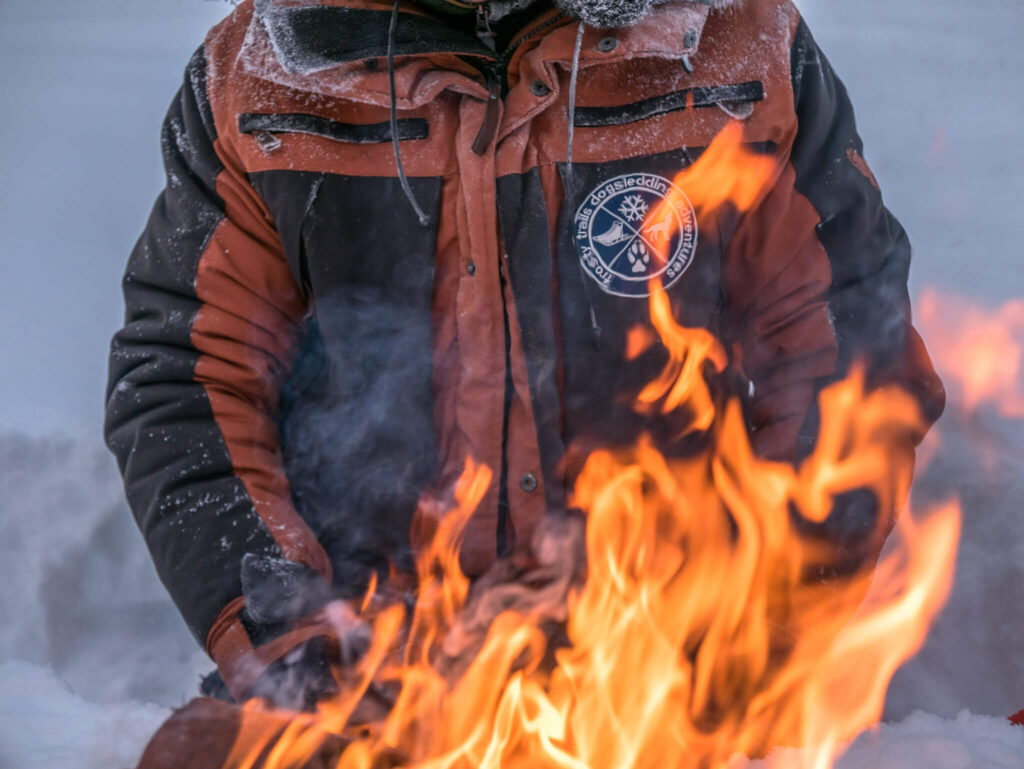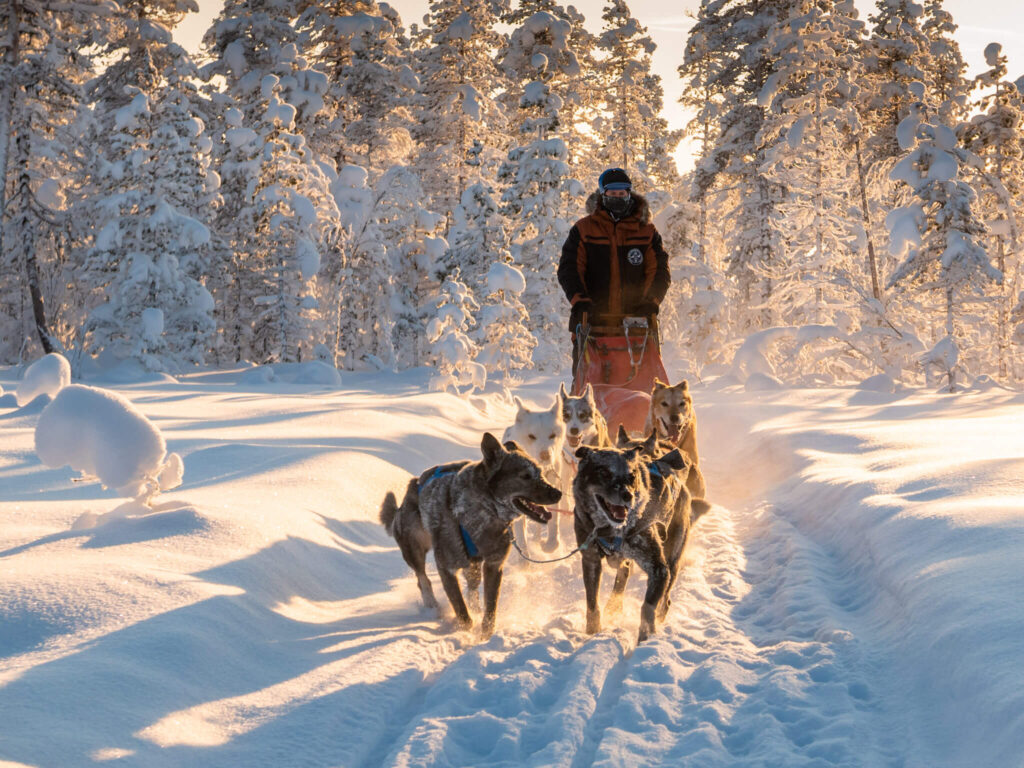 Other important information
You will find information on getting here on this page.
On arrival day, you are welcome around lunch time. We offer transfers from the train station in Murjek for the late morning train arriving at 11.33 hrs. Please mind that we do not offer any transfers for the 07:00 hrs train!
Checking out on the last day is after breakfast, but latest 09:00 am. If you are planning on taking the night train to Stockholm, you will leave on Friday night with the 21:00 hrs train, and we will take care of your transfer to the railway station in Murjek. If you leave by bus to Luleå (where the airport is) the bus leaves on Saturday morning at 08:20 hrs.
During your stay at our husky farm, we might have day tours with other guests starting up on the days that you are out on snowshoes. This does not interfere with your holiday at all – come watch while we start up with our dog teams!
We will provide you with warm clothes for dogsledding. For snowshoeing, you will bring your own clothes and hiking shoes. Appropriate clothing could be skiing pants and jacket, long underwear, a double layer of socks, a hat and gloves/mittens. Don't forget your sunglasses and sunscreen!
We want to create a 100% smoke free and perfume free environment, and we therefore respectfully ask smokers to book elsewhere. We also want to ask you kindly, not to use any strongly perfumed products like deodorant spray or perfume on this holiday.