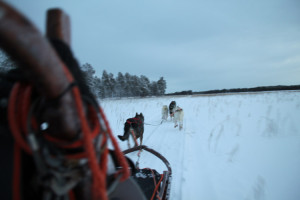 Sledding season has started! Even if it has been possible to drive a sled for some time now, I kept postponing it, because one is able to train more dogs in one go with a quadbike. But one frosty morning when I was freezing on the quadbike (somewhere between -15 and -20) I realized that it's much warmer to drive a sled and it's about time to start with it now!
I didn't even have to prepare any trail – the snowsurface is quite hard and on the top it's some centimeters with fluffy new snow. Perfect conditions to train leaddogs, as one can drive most anywhere!
The guy on the picture in the red coat and black hat is actually me, some people might not recognize me without a brown coat and red hat…
Next week I will drive up to Kiruna to drive my first weektrip of the season. Happy times!