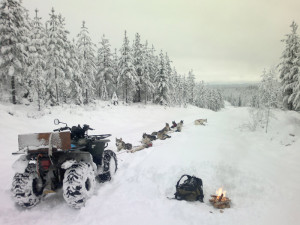 The dogs run 22 km in front of the quadbike now!
On October 18th we got our first snow for this year; It was just a littlebit of powder. Then on Ocober 25th we got another 5 cm of wet snow. Now I'm training the dogs in heavy snow, and i need snowchains on the quadbike to be able to drive the dogs at all. Soon I will start to train the dogs with a sled.
I'm stopping for a coffeebreak on all trainingtours; It's good for the dogs, as they learn to relax as we stop for breaks during the week trips we'll make later in winter. And it's nice with a break, especially now that it's getting colder!